<!! Small left side column on page here...> <!! End of table for image layout...>
Links to Organizations
Scholarly Organizations
Climate Science Watch Climate Science Watch is a nonprofit public interest education and advocacy project dedicated to holding public officials accountable for using climate research effectively and with integrity in dealing with the challenge of global climate disruption.

Real Climate RealClimate is a commentary site on climate science by working climate scientists for the interested public and journalists. We aim to provide a quick response to developing stories and provide the context sometimes missing in mainstream commentary. The discussion here is restricted to scientific topics and will not get involved in any political or economic implications of the science. All posts are signed by the author(s), except 'group' posts which are collective efforts from the whole team. This is a moderated forum.
See Real climate site for a list of resources on climate change - for beginners, for more details, serious discussion of contrarian talking points.

Intergovernmental panel on climate change The Intergovernmental Panel on Climate Change (IPCC) is the leading international body for the assessment of climate change. It was established by the United Nations Environment Programme (UNEP) and the World Meteorological Organization (WMO) in 1988 to provide the world with a clear scientific view on the current state of knowledge in climate change and its potential environmental and socio-economic impacts. In the same year, the UN General Assembly endorsed the action by WMO and UNEP in jointly establishing the IPCC.

Woods Hole Oceanographic The Woods Hole Oceanographic Institution is dedicated to research and education to advance understanding of the ocean and its interaction with the Earth system, and to communicating this understanding for the benefit of society.

National Oceanographic and Atmospheric Administration NOAA's Mission: To understand and predict changes in climate, weather, oceans, and coasts; To share that knowledge and information with others; and To conserve and manage coastal and marine ecosystems and resources.

James Hansen Site has links to current climate data. Also Jim Hansen's primary site, author of Storms of my Grandchildren

Climactic Research Unit University of East Anglia. The aim of the Climatic Research Unit is to improve scientific understanding in three areas: past climate history and its impact on humanity; the course and causes of climate change during the present century; prospects for the future.
Action Organizations
Climate Change Action Network The Climate Action Network (CAN) is a worldwide network of over 850 Non-Governmental Organizations (NGOs) in more than 90 countries, working to promote government and individual action to limit human-induced climate change to ecologically sustainable levels.

Climate Info ClimateInfo is a resource guide for anyone wishing to know more about the scientific consensus of climate change and its impact upon our planet. ClimateInfo is created and maintained by the Center for Organic Studies a 501(c)3 non-profit organization dedicated to the protection of the environment.
<!! Main section of page here in 70 percent column...> <!! NEW CONTENT TO BE ADDED HERE....>
New Articles
The Fifth Assessment Report of the Intergovernmental Panel on Climate Change (IPCC) is available here.
Temperature Record (1855-2013)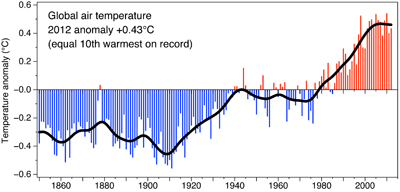 © Climatic Research Unit, University of East Anglia

"Climate change is likely to be the predominant scientific, economic, political and moral issue of the 21st century. The fate of humanity and nature may depend upon early recognition and understanding of human-made effects on Earth's climate." - James Hansen
An Inconvenient Truth
"...We, the human species, are confronting a planetary emergency - a threat to the survival of our civilization that is gathering ominous and destructive potential even as we gather here. But there is hopeful news as well: we have the ability to solve this crisis and avoid the worst - though not all - of its consequences, if we act boldly, decisively and quickly..."
"...We must quickly mobilize our civilization with the urgency and resolve that has previously been seen only when nations mobilized for war. These prior struggles for survival were won when leaders found words at the 11th hour that released a mighty surge of courage, hope and readiness to sacrifice for a protracted and mortal challenge..."
"...We must understand the connections between the climate crisis and the afflictions of poverty, hunger, HIV-Aids and other pandemics. As these problems are linked, so too must be their solutions. We must begin by making the common rescue of the global environment the central organizing principle of the world community..."
"...The world needs an alliance - especially of those nations that weigh heaviest in the scales where earth is in the balance. I salute Europe and Japan for the steps they've taken in recent years to meet the challenge, and the new government in Australia, which has made solving the climate crisis its first priority..."
"...But the outcome will be decisively influenced by two nations that are now failing to do enough: the United States and China. While India is also growing fast in importance, it should be absolutely clear that it is the two largest CO2 emitters - most of all, my own country - that will need to make the boldest moves, or stand accountable before history for their failure to act..."
quotes from Al Gore's Nobel acceptance speech Dec 10 2007